It's an industry worth hundreds of millions, or more, with the cost only growing for Canadian taxpayers
Article content
PLATTSBURGH, N.Y. — Around 3 p.m. on a February Friday, in the middle of a snowstorm, a Greyhound bus slowly turns into a combination gas station and Dunkin' Donuts on the outskirts of Plattsburg, N.Y., a small city roughly 30 minutes from the U.S.-Canada border.
Article content
The bus, originating from New York City, is tailed closely by a handful of taxi vans, some painted in trademark taxi yellow with "Cornwall, Roxham, and LaColle borders" boldly emblazoned on each side. They race into the parking lot, and their drivers jump out and rush towards the bus doors.
As soon as the first passengers step off the bus, the cab drivers start jostling for their attention. They call out: "Roxham Road", "Canada" or "border."
For anywhere between US$50 and US$70 per trip, they will carry migrants to the end of a small path roughly 25 minutes north, at Roxham Road. There, the migrants will take everything they can carry and illegally walk across the Canadian border to make an asylum claim.
Video shows how migrants enter Canada at Roxham Road's illegal border crossing

Life on Roxham Road, where frustrations mount and hundreds of illegals cross over every day
Article content
The taxis are part of a chain of several lucrative private interests that appear to be profiting handsomely from what some now call the business of migrants passing into Canada from the U.S. via Roxham Road.
It's an industry worth hundreds of millions, or more, with the cost only growing for Canadian taxpayers.
As soon as the migrants cross the U.S.-Canada border illegally at Roxham — a small road just a few minutes east of the official St-Bernard-de-Lacolle, Que. border crossing  — most will be transported to hotels, where they will be fed and sheltered, all at government expense.
According to data provided by Immigration, Refugees and Citizenship Canada (IRCC), the department spent roughly $136 million between March 20, 2020 and Jan. 31, 2023 on "temporary accommodations" for asylum claimants who entered via Roxham Road. The department says the cost includes meals, accommodation, transportation and security.
Article content
That's in addition to $551.6 million sent to provinces and municipalities since 2017 via the Interim Housing Assistance Program, which covers "extraordinary costs of interim housing for asylum seekers."
If the migrants are determined by the government to be eligible to make an asylum claim, they will also have access to "social assistance, education, health services, emergency housing and legal aid" while they wait for the Immigration and Refugee Board to issue a ruling on their case, according to the government. That process can take years, because of significant backlogs.
Asylum claimants are afforded access to those services because they are considered a "vulnerable group, and Canada has obligations under the Refugee Convention that do not apply to other areas of immigration," said IRCC spokesperson Remi Lariviere.
Article content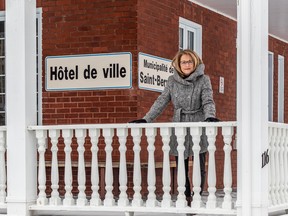 St-Bernard-de-Lacolle Mayor Estelle Muzzi, has spent years speaking to asylum seekers crossing through her town. She says migrants crossing at Roxham Road are not doing so "out of pleasure" or to "take advantage of the system," but out of necessity.
She says she understand how some people may find it "shocking" to see migrants put up in hotels, but she said, it's "certainly better than seeing them in the streets."
"Maybe there is a middle ground between the hotel and the street. But what is the middle ground? Putting them up in community housing that's already sorely lacking? I find that those who say Canada is 'rolling out the red carpet' for migrants are going too far," she said.
Since 2017, a surge of migrants have trudged across the small ditch and dirt path that connect Roxham Road, U.S.A. to Roxham Road, Canada. That was the year that then U.S. president Donald Trump cracked down on refugee claimants and Prime Minister Justin Trudeau responded with a tweet saying "To those fleeing persecution, terror & war, Canadians will welcome you." Since then, roughly 100,000 migrants have crossed over, with yearly averages varying between 16,000 and 39,000 (except for an exceptional, temporary drop because of pandemic border lockdowns in 2021).
Article content
While most migrants were initially shuttled into various places in Quebec, the provincial government began complaining that it placed too much strain on its social support and health-care systems.
In June 2022, the federal government said it would begin redistributing asylum claimants from Roxham Road to various cities in Ontario to reduce the "pressure on publicly funded services and accommodation in Quebec." Since the summer, migrants have been relocated to Ottawa, Niagara Falls, Toronto, Cornwall and a few other communities in Ontario.
It didn't take long for business owners in those cities to realize that there was money to be made in hosting and tending to the busloads of new residents.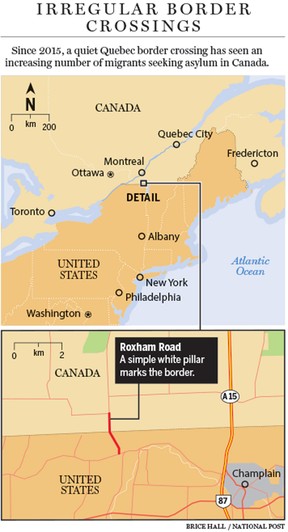 In Cornwall, Mayor Justin Towndale spent the better part of February pleading for more resources from the federal government to help pay for the social services used by the nearly 800 migrants housed at the DEV Hotel and Conference Centre, the city's largest. Federal contract databases show the federal government has paid upwards of $15 million to the owner of the hotel since the summer, but the cost of many social supports are shared between the city and the province.
Article content
IRCC said in February that it had signed a three-month contract with the new owners of another major hotel, the Ramada Inn, on Dec. 29, 2022, to host migrants from Roxham Road. The IRCC's Lariviere declined to detail how much has been spent on any specific hotel contracts.
In a statement, Conservative MP Eric Duncan, whose riding includes Cornwall, Ont., said that the Ramada Inn had recently been bought up by a "company with a contract to expand and extend the processing centre and volume in Cornwall indefinitely," and that he was hearing about clients who had their hotel reservations and wedding events cancelled in the process.
In Niagara Falls, where over 3,000 migrants have been transferred by IRCC in recent months, nearly 1,000 privately owned hotel rooms were reserved for Roxham Road crossers in February.
Article content
"I get the impression that its extremely lucrative for certain people — like for the buses and taxis in Plattsburgh that travel to Roxham Road," Muzzi, the St-Bernard-de-Lacolle mayor,  said, adding that she considers it a form of "human trafficking."
RCMP agents at Roxham Road, who agreed to be interviewed if they weren't named, say that lately there has been a growing number of migrants who arrive at the crossing by way of Florida. They fly into the U.S., the officers say, and then pay hundreds of dollars to take a minibus for the long drive north to Roxham Road.
At the Plattsburgh, N.Y. Greyhound terminal, one taxi driver, Tom, says he knows by heart the bus schedule for the five daily buses arriving from New York City, five hours south. The bus route has boomed since the municipal government in New York City began providing free bus tickets to migrants who wanted to relocate outside the city, including those wanting to cross into Canada.
Article content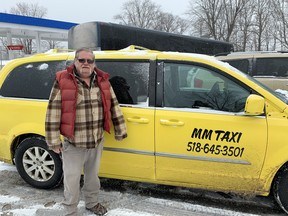 Now in his sixties, Tom says he started doing runs from Plattsburgh to Roxham Road in 2006 as a side gig to his job doing custodial services for the city. But business has exploded in recent years. He's retired from the city now, and works full-time driving migrants, taking them 30 minutes north to the irregular border crossing in his van.
"Every time there's a bus that arrives, there's somebody going to Roxham," he said.
That afternoon, Tom is haggling with a group of Spanish-speaking would-be customers. One of them says US$70 is too expensive for the Roxham run. Tom drops his price to US$50. The man agrees, and puts his bags into the van.
"Sometimes I pick up one person, sometimes it's five," Tom said. "They sometimes come in by bus for free from New York City because the mayor paid for everything. But once people get here, they got no goddamn money. So sometimes I take them for free."
Article content
Tom says he can make anywhere between nothing and upwards of US$300 per ride, depending on how many people get off the bus and can fit in his van. But he rents the van from someone else, and half of his take goes to the owner.
He complains about the illegal taxis that have started popping up recently. He says they're trying to scam clients with overpriced rides in "broken down cars held together with duct tape."
But he has sympathy for the migrants. "I grew up in poverty, I'm sensitive to it," he said. "I understand these people's desire to try anything and pay everything in the hope of a better life." He climbs into his van, where four passengers hoping to resettle in Canada, are waiting for their ride.
Behind the booming, multi-million-dollar business of Roxham Road