Is Russia's most infamous mercenary back to business?
But this time around, it isn't Ukraine, where his fighters have largely withdrawn from the front lines, that is taking center stage. Instead, it is the Wagner Group's extensive, controversial and lucrative operations in Africa that look to be indispensable to the increasingly isolated Russian president.
A photograph has surfaced appearing to show Yevgeny Prigozhin, leader of the Wagner private military group who led an aborted armed mutiny in Russia, as Vladimir Putin hosts a Russia-Africa summit.
"Putin has a vested interest to keep the Wagner network alive as a tool of clandestine Russian statecraft on the continent," Andreas Krieg, a professor at King's College London and an expert on private military companies, said referring to Africa.
The image was posted on Telegram on Thursday, appearing to show Prigozhin shaking hands with a man wearing a lanyard matching the branding of the summit.
The image, now deleted, was shared on a Facebook account appearing to belong to Dimitri Sytyi, who was named by Prigozhin as having a major role in Wagner's operations in the Central African Republic, a resource-rich country, which is among the world's poorest nations. 
NBC News reported in June that Wagner had taken control of a major gold mine in the country, although this has never been admitted. U.S. sanction documents say Wagner will not allow government officials to visit mining sites it controls.
Putin remains committed to Africa not just for mineral riches, but also to have a political and financial foothold in emerging economies, Krieg said.
"Wagner will continue to be a tool of expeditionary Russian statecraft in the global South," he said. "It provides an important lever of security assistance, political and information warfare, as well as, if necessary, kinetic war fighting capability."
Benjamin Petrini, a research fellow at the International Institute for Strategic Studies, an international think tank, said that Russia favors influencing African states' affairs because it can bypass international rules, including sanctions.
"There is no accountability or checking on human rights records and no strings attached like there is to get the support of the U.S. and Western actors," he said.
Putin, who accused Prigozhin of treason and "a stab in the back" for leading his fighters to within 125 miles of Moscow on June 23, underlined just how important Africa is to his foreign policy goals in a speech Friday at the summit, which Russia is hosting for a second year.
"We are witnessing the African continent becoming a new center of power. Its political and economic role has been growing exponentially, and everybody will have to reckon with this objective reality," he said, according to the Russian state-run news agency Tass.
Putin this week promised African leaders tens of thousands of tons of free grain, following international condemnation for allegedly endangering the world's food supply by bombing Ukrainian ports and reneging on a landmark export deal. African Union Chair Azali Assoumani told the summit that the deal was a benefit to the whole world.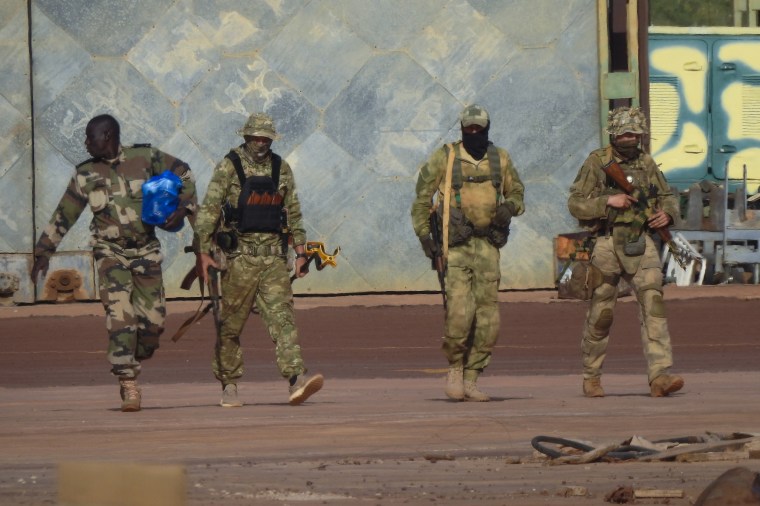 Wagner has withdrawn from its front-line role in the war in Ukraine, but still poses a serious security threat to the United Kingdom and the wider Western community, according to a long-running investigation published this week by British lawmakers.
The report described how Wagner is deeply involved in the politics and military management of several countries and has been accused of human rights violations, damaging the stability of various states and ruthlessly exploiting natural resources, including gold and diamonds.
The armed coup in the West African state of Niger this week highlighted Wagner's ambitions on the continent. On video distributed by The Associated Press, supporters of the coup were filmed in the capital, Niamey, waving Russian flags and flags showing the insignia of Wagner, with some chanting "Long live Russia" and "down with France," referring to the country's former colonial ruler.
Now a critical question is whether Niger will indeed engage Wagner, like neighbors Mali and Burkina Faso have done. Both have kicked out French forces, and France moved more than 1,000 personnel to Niger after pulling out of Mali last year.
An audio message claiming to feature Prigozhin emerged Friday and may offer insight into Wagner's ambitions in the country.
"Tens of thousands of soldiers are incapable of protecting the citizens of sovereign states. The citizens are suffering," it said, referring to the private military contractor. "And in this lies the love of PMC Wagner and the highly effective nature of PMC Wagner."
The message appeared on the Telegram channel of the Commonwealth of Officers for International Security, a group that manages Russian military instructors working in the Central African Republic. NBC News could not verify the authenticity of the message.
On Thursday, White House spokesperson Karine Jean-Pierre said when asked about it: "Until now, we have not seen credible indications of Russian or Wagner involvement" in the Niger coup.
Niger remains a key nation in the fight against Islamic terrorism and in securing peace in the region. There are 1,100 U.S. personnel in the country, a spokesman for the U.S. Africa Command, told the AP.
NBC News reported Thursday, citing two defense officials who were not authorized to speak to the media, that U.S. forces are on restricted movements during the violent transfer of power.
"Considering that Wagner has a range of clandestine capabilities in the security and information domain, it could have provided these capabilities to those leading the coup, but doing so in the shadows," Krieg said.
Several African leaders are open about the relationship they have with Russia and its surrogate private military companies. Central African Republic President Faustin Archange Touadera said Friday at the summit in St. Petersburg that Russia had helped his country save its democracy and avoid a civil war.
He didn't mention Wagner specifically, but its mercenaries have been active in the country since at least 2016. The Russian ambassador to the Central African Republic said in February this year that 1,890 "Russian instructors" were present.
Malian President Assimi Goita personally thanked Putin at the summit Friday for supporting the country's fight against "terrorism."
Alicia Kearns, chair of the British Parliament's foreign affairs committee, which produced the investigation into Wagner, told NBC News this week: "They lie when they suggest that they are good at defeating terrorists. They certainly do not bring stability."  
"Unless, of course, you see stability as complete autocratic rule where civilians are scared of their own countries and brutalized into submission," she said.
For Russia's chief mercenary, a photo suggests it's business as usual after a mutiny and exile